Top 10 Corporate Event Ideas
Published on Feb 22, 2019
When it comes to organising a corporate event, there are a few things to consider that will ultimately result in the event being a resounding success. Initially it's coming up with corporate event ideas that will be suitable for your group – will it be outdoors, a physical activity or something that will get everyone thinking? To get the ball rolling we have put together 10 great corporate event ideas from Coasteering to Murder Mystery evenings to help you explore what fun, simple-to-arrange events you can do to make your corporate event one to remember!
1. Bubble Football
Ever fancied crashing into your colleagues or even your boss inside a giant inflatable bubble? Then as far as corporate event ideas go Bubble football (also known as Zorb football) is going to be right up your alley! With venues available across the UK it's a great way for players to be competitive and have some serious fun! It's certainly a workout and requires lots of energy to run around to send your team mates flying – but totally worth the effort! The other great thing about this hilarious activity is that it's as much fun watching as it is participating and will create some great moments for everyone to remember. Plus with lots of games included to keep all of your guests entertained it's a great contender for building your perfect corporate event!
2. Totally Wiped Out
Jump, slip and slide your way around some of the best giant inflatable games and challenges with Totally Wiped Out! You and your group compete in a variety of games including the Sweeper Arm and Punch Wall as well as flinging themselves down the foam slide on a mat and seeing how far they can drift! Bounce across colossal giant red balls in a race against the other team, scramble though the huge inflatable obstacle course and wriggle your way through the inflatable forest to the finish. It's a super corporate day out and will definitely get everyone talking about how much fun they had!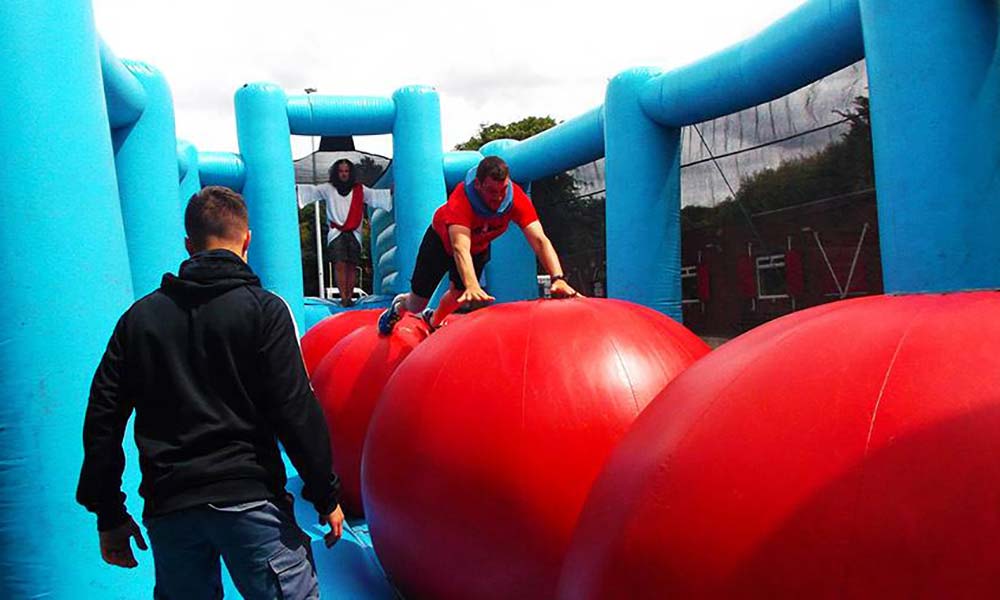 3. Coasteering
If you are after something a little different then Coasteering could be great idea for your corporate event. Filled with thrills and spills you and your colleagues get to experience some of the best spots of the UK's scenic coastlines. You can launch off cliff edges, traverse rocky coves and get up close to the local wildlife. For corporate event ideas it definitely suits those who have a thirst for adventure and provides a great opportunity for your team to build bonds and enjoy something a little wild!
4. Ultimate Army Assault Course
If you are after a corporate event idea that requires a bit of muscle and will power then the Ultimate Army Assault Course is going to push you and your team to the limits! Guided by ex-military instructors who take you across woodland, over hills, through underground tunnels and diving into pools – it will test every fibre of your being. So make sure to bring the competitive spirit along with teamwork, pure determination and energy to get everyone through the course and then enjoy basking in your herculean accomplishments!
5. Whisky Tasting
Perhaps you are thinking of corporate event ideas that have a little more suave? Then sampling some of the finest Scotch whisky could be the perfect fit. Explore the rich, alluring aromas and flavours whilst learning about the history and production of the famous tipple with your very own whisky expert. During your tasting experience you will find out how different aged whisky affects the taste and also be able to identify aromas and much more. Ideal for whisky lovers, it certainly makes for a seriously fun and entertaining event!
6. Treasure Hunt
Put your thinking cap on and gather the team and put their skills to the test by taking them on a Treasure Hunting adventure! Sometimes it's nice to get out of the office and have fun whilst allowing everyone to strengthen friendships and enjoy a bit of a challenge. As far as corporate event ideas go this is super easy to organise with the option to have a fully hosted event, or even allow the team to venture out on their own to find the booty!
7. Murder Mystery Night
We all love a Murder Mystery and as corporate event ideas go this one is a great way for everybody to get involved. With a series of themes to choose from including James Bond MI6, CSI Crime scene investigation and Murder and the Mob. You and your colleagues will spend the evening transformed as the story unfolds, unravelling clues, examining evidence and interrogating suspects all in a bid to discover the guilty culprit. With a Murder Mystery night you can be sure to have a fantastic experience to take home with you in this unique corporate event.
8. School Sports Day
Any list of corporate event ideas wouldn't be complete without this nostalgic gem! Take yourself back to the golden days of your youth and compete in the ultimate classic School Sports Day. This thoroughly competitive activity makes it an ideal corporate day out for anyone wanting to break out their inner child! You will enjoy brilliant games including the legendary egg and spoon race, the hilarious sack race, three legged race, bouncy space hoppers and loads more. Win or lose you are all sure to have a great day filled with laughter, fun and fails!
You may also like: Top Team building Activities
9. Paintballing Day
If you are after an exciting, physical corporate activity then you can't go too wrong with a bit of Paintballing. Organise yourselves into teams, figure out your plan of attack and enjoy an array of adrenaline filled games and scenarios to test your mettle. The day kicks off with a safety briefing before all the team get kitted out with camouflage, goggles, padded hood, latest guns and ammo. So be prepared to take no prisoners and show no mercy as you take on the enemy with an onslaught of paintballs!
10. Archery Experience
Give Robin Hood a run for his money when you and your group train with experienced instructors for a day of sharp shooting Archery! A superb way to get everyone of all ages taking part in a friendly, competitive environment. Learn the shooting techniques along with target practice and play against your team mates to become the champion archer! With sites across the UK, mastering the art of the bow couldn't be easier and certainly a top contender for corporate event ideas!
With so many great corporate event ideas to choose from this top 10 list will hopefully give you a start to finding the ideal event for you and your team! You can also see what other fantastic corporate event ideas we have here